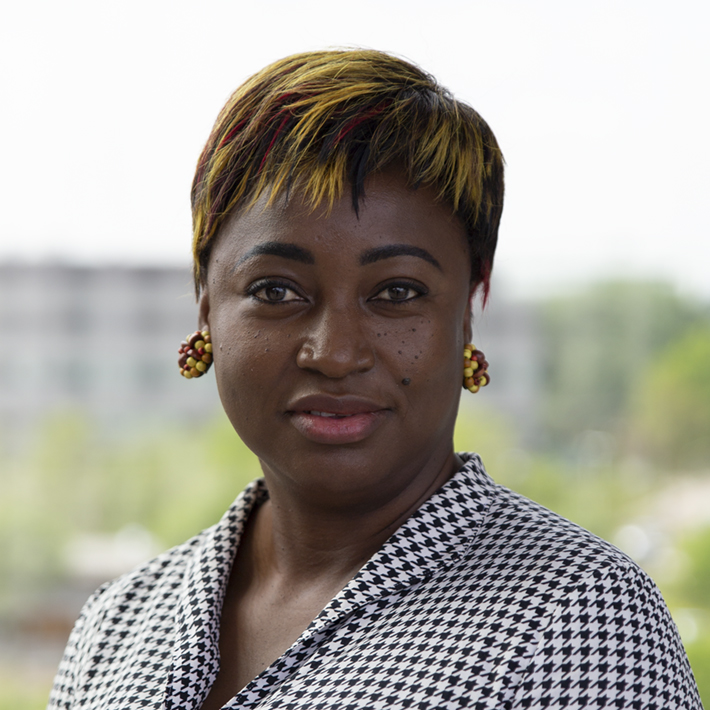 Madeleine Eunice Betouke Ongwe
Research areas of interest: Immunometabolism,Immunology, Metabolomics, Parasitic infections, Vaccinology, Clinical trials, Population studies
Affiliation(s)
Leiden University Medical Center, Leiden, the Netherlands   |   Leiden University Center for Infectious Diseases
Centre de Recherches Médicales de Lambaréné, Lambaréné, Gabon
Institut de Recherches en Écologie Tropicale, Centre National de la Recherche Scientifique et Technologique (IRET-CENAREST), Libreville, Gabon   |  Department of Biology

Education and Research background 
I am biologist working as a researcher at the Institut de Recherches en Écologie Tropicale, Centre National de la Recherche Scientifique et Technologique (IRET-CENAREST) in Gabon. Currently, I am completing a PhD at Leiden University Medical Center in collaboration with the Centre de Recherches Médicales de Lambaréné (CERMEL), a medical research centre based in Lambaréné, Gabon. My research focus is on the influence of metabolism on immune responses across populations from different geographical areas. I first did molecular biology research at IRET/CENAREST and then later focused on biomedical research at CERMEL where I worked as a biomedical scientist in several vaccine and observational study trials on malaria and parasitic worms (helminths). I have also worked on controlled human malaria infection studies.
My work on immune responses to vaccines
I study metabolic phenotyping in response to various perturbations including vaccination. Using metabolomics, I have investigated changes in the urine metabolite profile following immunisation with hookworm vaccine candidates in rural versus semi-urban individuals. I am also involved in the field of immunometabolism and have been exploring how certain metabolic pathways regulate immune cell response across different populations with varying levels of pathogen exposure. This exploration may unravel a possible mechanism that may be related to vaccine hyporesponsiveness that we observe in Sub-Saharan African populations. Identifying specific pathways involved will be instrumental in improving vaccine responses and efficacy in populations in need.
beyond research
I like African traditional dances and musical comedies. I also enjoy watching cosmetics, skin care and fashion tutorials.