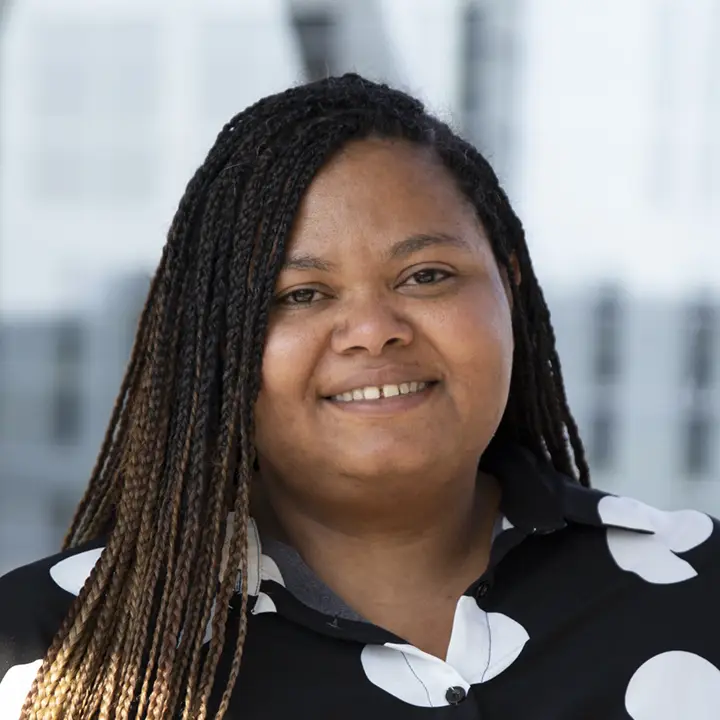 Yoanne Darelle Mouwenda
Research areas of interest: Parasitic infections, Cytometry, Immunology, Vaccinology, High-dimensional cellular analysis
Affiliation(s)
Leiden University Medical Center, Leiden, the Netherlands   |   Leiden University Center for Infectious Diseases
Centre de Recherches Médicales de Lambaréné, Lambaréné, Gabon
Education and Research background 
I completed my bachelor's degree in cellular biology and physiology at the Université des Sciences et Techniques de Masuku in Franceville, Gabon. Later on, I pursued a master's degree in tropical infectious diseases at the École Doctorale Régionale d'Afrique Centrale also in Franceville. As part of my master's, I focused on evaluating the effect of soil-transmitted parasitic worms (helminths) on T cell immune responses to influenza vaccine. This allowed me to gain experience in cell culture and immunophenotyping using flow cytometry.
Following my master's degree, I worked as a biomedical researcher at the Centre de Recherches Médicales de Lambaréné (CERMEL) where I was responsible for setting up the flow cytometry platform. This position provided me with three years of valuable experience.
To expand my skill set, I embarked on a PhD in the Department of Parasitology at Leiden University Medical Centre (LUMC) in the Netherlands. My research focused on comparing the cellular immune profile and vaccine response of Africans and Europeans, with a particular emphasis on cord blood immunity and stem cell immune profile characterization. Mass cytometry was the primary technique utilized in my work.
Throughout my educational journey, I have gained extensive experience in the field of immunology, particularly in human immunology, vaccinology, and high-dimensional cellular analysis. I also have a comprehensive understanding of statistical analysis using software such as R.
My work on immune responses to vaccines
My research on vaccine immune responses aimed to identify immune markers and cell populations that contribute to differences in vaccine response between Africans and Europeans. Specifically, I focused on analysing the immune responses to the sub-unit Hookvac vaccine by investigating the phenotype and function of specific T cells in a Gabonese population living in a hookworm endemic area. I utilized advanced techniques such as flow cytometry and mass cytometry as well as using enzyme-linked immunosorbent assays (ELISAs) to assess cytokine production. Additionally, I investigated immune responses associated with protection against malaria in naïve Europeans who received the Plasmodium falciparum (Pf) sporozoite (SPZ) chemoprophylaxis vaccine (PfSPZ-CVac) with chloroquine treatment. In particular, I examined the overall immune response and cellular function using mass cytometry. Since most vaccines are given at birth, I explored the impact of maternal parasitic infections during pregnancy on the development of immune responses in new-borns exposed to infections in utero compared to non-exposed individuals. This research provides insights into the interaction between maternal health, prenatal factors, and the immune system of new-borns.
beyond research
I have a wide range of hobbies that I absolutely love! Art, history, museums, drawing, cinema, and even boxing are all things that bring me so much joy. They allow me to express myself, explore new worlds, and stay active.